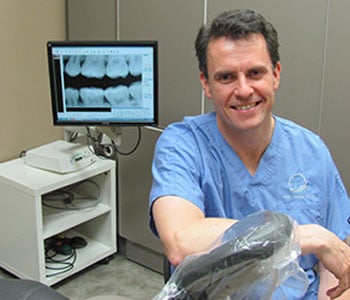 Dr. Cam Brauer DMD, BSc
Cam grew up in Lloydminister on the border between Saskatchewan and Alberta.
He played hockey for RPI- US College, WHL, AHL, ECHL and was drafted by the Edmonton Oilers and played for the Heartford Whalers organization travelling throughout the United States.
Leaving professional hockey he attended the University of Calgary and played with the Dino's for a short stint as he was working on his Biology Degree. He then attended the University of Saskatchewan and graduated with Distinction from Dentistry.
He joined Tuscany Dental Centre in May of 2005 rounding out the practice.
He married Susan and they have 2 boys.
Favorite family meal – 6oz fillet rare+ with a side of vegetables.
Favorite passtime – coaching boy's hockey, playing hockey, nutrition and health, and spending time skiing, mountain biking or being outdoors,, with his two boys and wife Susan.
He coaches both boys hockey teams and enjoys dedicating time to minor hockey in Calgary.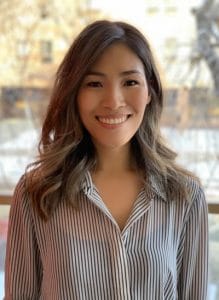 Dr. Juhee Ko
Hi! I'm Juhee Ko, born in South Korea and educated in Canada and Australia.
Ever since I was young I knew I wanted to be a dentist as clean teeth and healthy, beautiful smiles are my passion.
I moved to Regina for High School and then studied a BSc and BA at McMaster University in Hamilton. Following my passion for Dentistry, I spent 2 years at the University of Toronto researching and working with Sjogren's syndrome patients before finally deciding to obtain my dental degree from the University of Sydney in 2015. Of all the places I've lived Canada is my favourite, so it was an easy decision to come back and work. I have called Calgary home ever since.
My joy comes from helping the patients I see become partners in maintaining and improving their oral health and coming up with a tailored treatment plan that works best for each patients' unique circumstances. I make it a priority to attend high level continuing education courses throughout the year to ensure that I can provide the best level of care for my patients.
I'm a firm believer that prevention is the best medicine but when the time comes for treatment, I strive to maintain a compassionate, caring and low stress environment.
I'm fluent in Korean and English.
Most of my free time is spent with my husband, Tristan. We love finding new places to eat and exercising for health and to burn off those extra calories! We love travelling and exploring new places locally and abroad. I look forward to hearing your best recommendations.